Archives for December 2016
By
The Marine Education and Training (MET) Mini grant program is now accepting applications. Please share with others that may be interested.
Federal Funding Opportunity: NOAA-NMFS-PIRO-2017-2005072
Full Announcement via Grants.gov: http://www.grants.gov/web/grants/view-opportunity.html?oppId=290838
Due Date: Proposals must be received by http://www.Grants.gov, postmarked, or provided to a delivery service by 5:00 p.m., Hawaii Standard Time, on February 23, 2017.
2017 Marine Education and Training (MET) Mini Grant Program
The National Marine Fisheries Service (NOAA/NMFS) is soliciting competitive applications for the 2017 Pacific Islands Region Marine Education and Training Mini-Grant Program. Projects are being solicited to improve communication, education, and training on marine resource issues throughout the region and increase scientific education for marine-related professions among coastal community residents, including indigenous Pacific islanders, Native Hawaiians and other underrepresented groups in the region.Projects should prepare communities for employment in marine related professions, increase seafood and fishing safety, marketing, or management; or increase the sustainability of fishing practices through technology improvements or data collection.
For more information on the program, visit
grants.gov
and download the full funding opportunity.
By
HONOLULU (15 Dec. 2016) The Western Pacific Regional Fishery Management Council is hopeful that when President Obama arrives in Honolulu tomorrow, he will acknowledge the $100 million commercial fishing industry in Hawai'i and the impacts on that fishery by his expansions of the Papahanaumokuakea Marine National Monument (MNM) in the Northwestern Hawaiian Islands (NWHI) and the Pacific Remote Islands MNM, which includes nearby Johnston Atoll. The value of the Hawaii longline fishery is excess of $300 million when factoring in retail markets and support industries and their employees.
Read More ª
By
HONOLULU (7 Dec. 2016) The Western Pacific Regional Fishery Management Council yesterday in Hilo began holding a series of public scoping meetings to prepare fishing measures for the newly expanded area of the Papahānaumokuākea Marine National Monument (PMNM) in the Northwestern Hawaiian Islands (NWHI). By Presidential executive order, commercial fishing will be prohibited and non-commercial and Native Hawaiian subsistence fishing will be regulated.
The meetings continue tonight in Kailua-Kona and end on Dec. 17 in Molokai.  Those unable to attend are welcome to send comments to
info.wpcouncil@noaa.gov
or by mail to the Western Pacific Regional Fishery Management Council, 1164 Bishop St., Suite 1400, Honolulu, HI 96813.  At this scoping phase of the process, there is no comment deadline.
The expanded Papahanaumokuakea Marine National Monument prohibits commercial fishing in about 61 percent of the US EEZ around Hawai'i. Marine national monuments now comprise 51 percent of US EEZ waters in the US Pacific Islands.
Dec. 7 (W) 6 to 8 p.m. West Hawaii Civic Club, Bldg. G, 74-5044 Ane Keohokaloloe Hwy.,
Kailua-Kona, Big Island
Dec. 8 (Th) 6 to 8 p.m. Courtyard, Kahului Airport, 532 Keolani Pl., Kahului, Maui
Dec. 13 (T) 6 to 8 p.m. Chiefess Kamakahelei Middle School, 4431 Nuhou St., Lihue, Kaua'i
Dec. 15 (Th) 6 to 8 p.m. Ala Moana Hotel, Garden Lanai, 410 Atkinson Dr., Honolulu
Dec. 17 (S) 1 to 3 p.m. Kaunakakai Elementary School, 30 Ailoa St., Kaunakaki, Moloka'i
Agenda: Informational booths, Presidential proclamation on the PMNM expansion, Council's rule-making role, data discovery questions and public comments.
By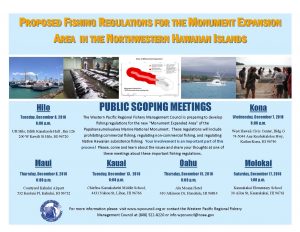 The Western Pacific Regional Fishery Management Council is preparing to develop fishing regulations for the new "Monument Expansion Area" of the Papahanaumokuakea Marine National Monument. These regulations will include prohibiting commercial fishing, regulating non‐commercial fishing, and regulating Native Hawaiian subsistence fishing. Your involvement is an important part of this process! Please, come and learn about the issues and share your thoughts at one of these meetings about these important fishing regulations.
Agenda (for all meetings)
6:00 pm            Arrival and Introductions
Read More ª
By
H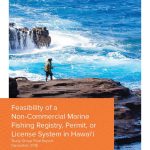 awai'i's fisheries are indispensable to the State's environment, economy, food security, and culture. Hawai'i's fisheries require well-informed management with an adequate capacity to ensure that the resources exist for future generations. The Hawai'i State Legislature has periodically examined what a non-commercial marine fishing license may be able to offer to address these needs. Hawai'i remains, however, the only coastal U.S. state without a mandatory non-commercial marine fishing registry, permit, or license ("RPL") system, because these previous attempts to enact an RPL system have been unsuccessful.
To better understand the issues relevant to an RPL system, Conservation International Hawai'i (CI Hawai'i) and the Western Pacific Regional Fishery Management Council ("Council") invited individuals from different fishing organizations and interest groups to serve as members of a Study Group to undertake a fresh examination of the RPL system issues. These individuals have diverse knowledge and experience and worked together over much of 2016 to gather and analyze information to better understand the implications of any prospective RPL system.
The Study Group focused on evaluating any potential RPL system based on its ability to meet three primary objectives: (1) provide additional and more robust data to support fishery management; (2) foster two-way dialogue between fishers and managers by identifying the universe of non-commercial fishers in Hawai'i and developing approved communication pathways; and (3) create a source of independent, continuous funding to support effective fisheries management. The Study Group examined several RPL system options, including those enacted by other states, that might meet the above-stated objectives and sought to analyze the respective advantages and disadvantages of each. The group also reviewed the results of legal and financial analyses of some or all of these RPL system options, interviewed fisheries managers in other coastal states, and focused outreach efforts on certain unique stakeholders and rights-holders.
To read the report click below:
Frequently Asked Questions (FAQs) about the report
By
Date: December 5-9, 2016
Location: Fiji