***********************************************************
click here to jump to radio interviews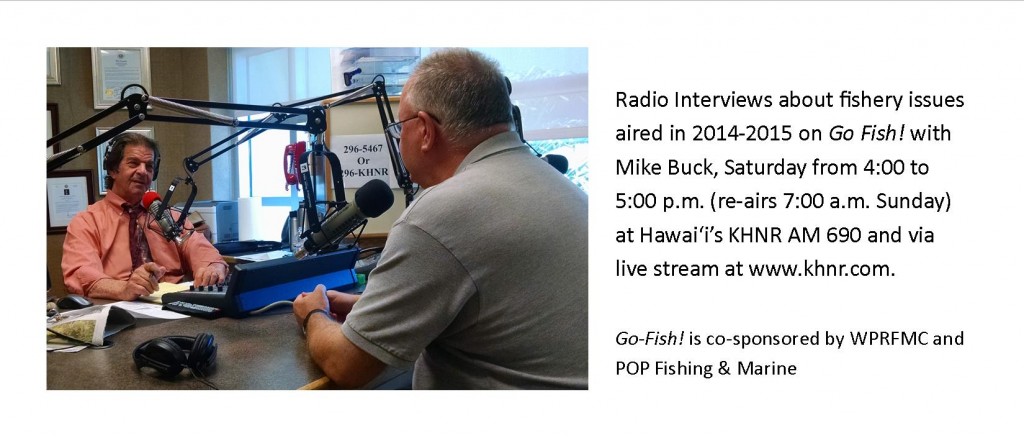 ***********************************************************
93KHJ radio segments

click here to jump to radio interviews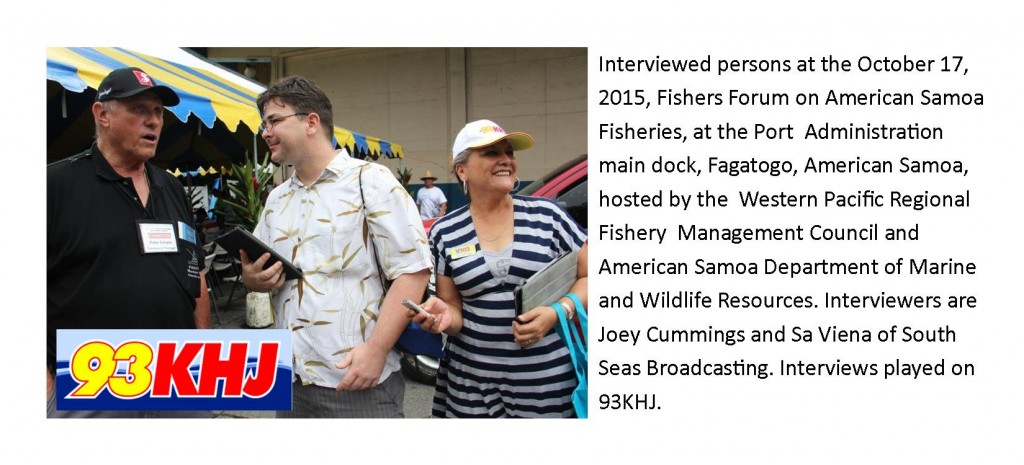 ***********************************************************
Hawaii Matters radio segments
click here to jump to radio interview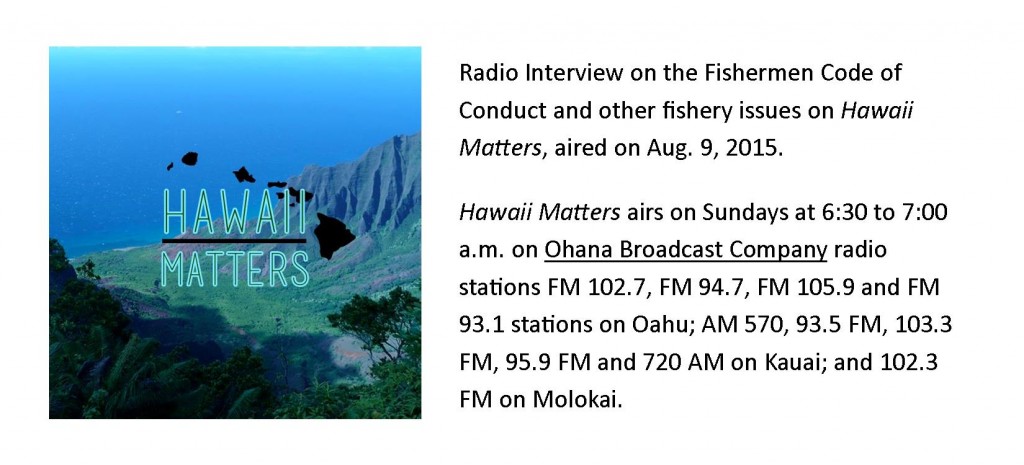 ***********************************************************

————————————————————————————————————————-
Hawaii Matters Radio Segments
The Fisherman's Code of Conduct with interviewees Charley Ka'ai'ai, WPRFMC's Indigenous Coordinator and Sylvia Spalding, WPRFMC's Communication Officer (Interview on radio show "Hawaii Matters", which is aired on Sundays from 6:30am to 7:00am on all Ohana Broadcast Company radio stations) Radio Air Date: 8/09/15
————————————————————————————————————————–
93KHJ Radio Segments
Interviewed persons at the October 17, 2015, Fishers Forum on American Samoa Fisheries, at the Port  Administration main dock, Fagatogo, American Samoa, hosted by the  Western Pacific Regional Fishery  Management Council and American Samoa Department of Marine and Wildlife Resources. Interviewers are Joey Cummings and Sa Viena of South Seas Broadcasting. Interviews played on 93KHJ.
1) Interviewing Peter Crispin – recreational fishermen, owner of Pago Pago Marine Charter
2) Interviewing Joe Hamby, chief operating officer of Tri Marine Group (purse seiners).
3) Interviewing Lafoga Alovao, owner of Figota O Le Sami Fish Market.
4) Interviewing Christinna Lutu-Sanchez, longline owner, president of Tautai O Samoa Longline Association and chair of the Council's American Samoa Advisory Panel.
5) Interviewing Claire Poumele, director of American Samoa Port Administration and member of the Western Pacific Regional Fishery Management Council.
6) Interviewing Kitty Simonds, executive director of the Western Pacific Regional Fishery Management Council.
————————————————————————————————————————–
Go Fish! with Mike Buck Radio Segments
26) United Nations World Tuna Day.  Sylvia Spalding, communications officer discusses the 1st Inaugural Celebration of the United Nation's World Tuna Day. Radio Air Date 4/28/2017.
25) Professor Ray Hilborn. Distinguished Fisheries Professor Ray Hilborn discusses sustainability of World Fisheries with Mike Buck (2 parts)
Part 1: Air Date: 2/13/16
Part 2: Air Date: 2/20/16
24) FISH Project Internship. How to apply, what to expect discussed  with Josh DeMello, WPRFMC's Fishery Analyst and project coordinator of the FISH Project Internship program. Air Date: 2/6/16
23) Akule Population Estimation Project. Using aerial surveys to estimate relative abundance of akule around Oahu. Discussed with John Wiley, Contractor with WPRFMC.  Air Date: 1/30/16.
22) Large Pelagics Tagging Projects.  Discussed with Dr. Molly Lutcavage, SSC Member and Clay Tam, Pacific Islands Fisheries Group. Radio Air Date: 1/23/16
21) Stock Assessments and how information is gathered. Radio interview with Cassandra Pardee. Radio Air Date: 1/16/16
20) Quota exchange system explained and plans for 2016 year with Josh DeMello, WPRFMC's Fishery Analyst. Radio Air Date: 1/9/16
19) Fishing Conflicts that arise, how we can mitigate and resolve these issues with Chris Hawkins, WPRFMC's Social Scientist.  Radio Air Date: 7/25/15
—————————————————————————————————————————
18) The social and economic importance of small yellowfin tuna with Chris Hawkins, WPRFMC's Social Scientist. Radio Air Date: 7/18/15
—————————————————————————————————————————
17) The reauthorization of the  Magnuson Stevens Fishery Conservation and Management Act.  Why is this important? What type of changes can we expect?  How will this affect you?  Discussed with Josh DeMello, WPRFMC's Fishery Analyst. Radio Air Date: 7/11/15
—————————————————————————————————————————
16) Data-limited fish stocks, how does this effect fisheries management? How can we get more data? This and more discussed with Paul Dalzell, WPRFMC's Senior Scientist.  Radio Air Date: 7/4/15
—————————————————————————————————————————
15) Fishing tournaments as a venue for data collection as well as the importance of complete and correct data for fishery management decisions with Josh DeMello, WPRFMC's Fisheries Analyst and Chris Hawkins, WPRFMC's Social Scientist. Radio Air Date: 6/27/15
—————————————————————————————————————————
14) 163rd Council Meeting and Fisher Forum outcomes. Interviewee Mike Goto, United Fishing Agency. Radio Air Date: 6/20/15
—————————————————————————————————————————
13) Seafood safety and traceability and a Fishers Forum on this topic discussed by Dr. Justin Hospital, economist with the Pacific Islands Fisheries Science Center, and Sylvia Spalding, WPRFMC's communications officer. Radio Air Date: 6/13/15
—————————————————————————————————————————
12) Ecosystem and fishery indicators of productivity with Jeff Polovina, Division Chief of Ecosystem Science Division of NOAA PIFSC. Radio Air Date: 6/06/15
—————————————————————————————————————————
11) Catch reports and what happens with the information reported with Dr. Chris Boggs, Divison Chief of NOAA PIFSC. Radio Air Date: 5/30/15
—————————————————————————————————————————
10) Using video surveys to evaluate fishery resources. Interviewees are Mark Mitsuyasu, WPRFMC's Insular Program Officer and Dean Sensui, Executive Producer for  Hawaii Productions Associates and "Hawaii Goes Fishing". Radio Air Date: 5/23/15
—————————————————————————————————————————
9) Fish Aggregation Devices (FADs) 101. Discussion includes types of FAD's, utilization by different fisheries, private versus permitted FADs and concerns about FADs found in the Western Pacific Region with Eric Kingma, WPRFMC's International Fishery/NEPA Enforcement Fisheries Development Coordinator.  Radio Air Date: 5/9/15
—————————————————————————————————————————
7/8) Development of seafood waste utilization. Discussion on how fish processing waste can be converted into feed for aquaculture or fertilizer with Mark Mitsuyasu, WPRFMC's Insular Program Officer and Warren Dominy, Senior Technical Consultant for Aquafeed.com
Part 1 (19:09 Minutes)
Part 2 (17:24 Minutes)
Radio Air Date: 4/18/2015
—————————————————————————————————————————
6) How the council has to comply to federal standards  and the council's five-year research priorities with Chris Hawkins, WPRFMC's Social Scientist.  Radio Air Date: 4/25/15
—————————————————————————————————————————
5) Surveying fishermen and developing a noncommercial fisheries database.  Interviewee is Chris Hawkins, WPRFMC's Social Scientist.  Radio Air Date: 4/11/15
—————————————————————————————————————————
4) Green Sea Turtle (honu) interview with Asuka Ishizaki,  WPRFMC's Protected Species Coordinator and Mac PoePoe, Molokai Community Member. Discussion includes proposed revision of listing status under Endangered Species Act,  and future of honu management in Hawaii. Radio Air Date 4/4/15
—————————————————————————————————————————
3) Discussion on Community Based Management with Charley Ka'ai'ai, Indigenous Coordinator for WPRFMC. ​Radio Air Date: 3/28/15
—————————————————————————————————————————
2) Information on the "Marine Science Course on Fishery and Resource Management" that is available to high school students during the summer of 2015.  Past students are interviewed about what they learned and experienced during the course. Radio Air Date: 3/21/15
—————————————————————————————————————————
1) WPRFMC's Code of Conduct. Interview with Charley Ka'ai'ai, Indigenous Coordinator, and Craig Severence, SSC Member. Radio Air Date: 3/21/15