Compliance Guides
Compliance Guides and Regulation Summaries at National Marine Fisheries Service Pacific Islands Regional Office http://www.fpir.noaa.gov/SFD/SFD_regs_2.html
Go Fish! with Mike Buck
The Council sponsors a weekly segment with Mike Buck on his "Go Fish!" Radio Talk Show, on AM 690.  The show airs on Saturdays at 4:00 p.m. with a replay on Sundays at 7:00 a.m.  Mike discusses all things fishing, including issues, fisheries management and science, and fishermen views.  For recent segments sponsored by the Council, click here.
January 13 and 20, 2018 Shows: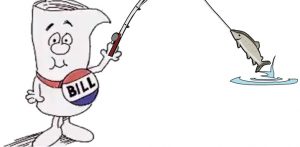 Do you know how fishing laws are made?  How do you provide input into the process?  This week's show Mike talks with Council staff Joshua DeMello about some of the national legislation that will impact fisheries and review how you can be a part of the process.  They also talk about the Marine Education and Training Program
Resources for this show:
April 7, 2018 Show: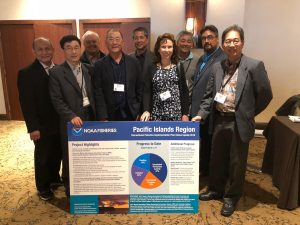 The National Saltwater Recreational Fishing Summit was held March 28-29, 2018 in Crystal City, VA.  Participants from the Western Pacific Region provided the summit with information on recreational, or non-commercial fishing, and the issues and needs in the region.  NOAA Fisheries Recreational Fishing Coordinator, Andrew Torres, and Council Staff join Mike Buck this week to talk about the summit and recreational fishing.
Resources for this show:
April 14, 2018 Show:


Bob Framm, Founder and President of Garden & Valley Isle Seafood, Inc. stops by to talk with Mike Buck about Hawaii's seafood industry and its dependence on fishing.  They also go on to talk about issues that face everyone including things like catch limits and potential prohibition on selling billfish to the US mainland.  For more information on Garden & Valley Isle Seafood, Inc. visit their website: http://www.gvisfd.com/
May 19, 2018 Show:
The Council Coordination Committee meets twice each year to discuss issues relevant to all councils, including issues related to the implementation of the Magnuson-Stevens Act.  From May 22-24, 2018, all eight of the regional fishery management councils will meet in Sitka, Alaska in its second meeting of the year.  This week's show Council staff discuss the important topics being discussed at this meeting and what this meeting means to the region.  For agenda and more information, see: https://www.fisheries.noaa.gov/event/2018-may-council-coordination-committee-meeting or visit the Councils' website at: http://www.fisherycouncils.org/
Main Hawaiian Islands Bottomfish
CURRENT SEASON:
2017-2018 Fishing Season (September 1, 2017 – August 31, 2018)
2015-16 Annual Catch Limit: 306,000 lbs
Total Landings to date: 209,298 lbs (68.4% of ACL)
(Click to see larger view)
PAST SEASONS:
2016-2017 Fishing Season (September 1, 2016 – August 31, 2017)
*Note: The 2016-2017 fishing season has ended as of August 31, 2017, though because of data processing and availability, the following may be updated as data is provided.
2016-17 Annual Catch Limit: 318,000 lbs
Total Landings to date: 234,299 lbs (73.7% of ACL)

(Click to see larger view)
Comparison of MHI Deep-7 Bottomfish Landings 2007-2017


(Click to see larger view)
Bottomfish News: Volume 17-August 2014
More information available at hawaiibottomfish.info
Fishery Science Information
Find scientific information on the region's fisheries at:
NMFS Pacific Islands Fisheries Science Center
Pelagics Fisheries Research Program (PFRP)
Hawaii Seafood Council
Pacific Islands Ocean Observing System (PacIOOS)
For more information on Fish Aggregation Devices:
Hawaii FADs
SPC Manual on FADs
SPC FAD Manual Volume II
State/Regional Regulations
National Marine Fisheries Service