Compliance Guides
Compliance Guides and Regulation Summaries at National Marine Fisheries Service Pacific Islands Regional Office http://www.fpir.noaa.gov/SFD/SFD_regs_2.html
Go Fish! with Mike Buck
The Council sponsors a weekly segment with Mike Buck on his "Go Fish!" Radio Talk Show, on AM 690.  The show airs on Saturdays at 4:00 p.m. with a replay on Sundays at 7:00 a.m.  Mike discusses all things fishing, including issues, fisheries management and science, and fishermen views.  For recent segments sponsored by the Council, click here.
January 13 and 20, 2018 Shows: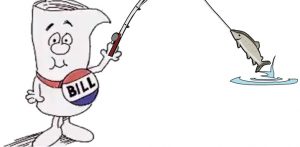 Do you know how fishing laws are made?  How do you provide input into the process?  This week's show Mike talks with Council staff Joshua DeMello about some of the national legislation that will impact fisheries and review how you can be a part of the process.  They also talk about the Marine Education and Training Program
Resources for this show:
Main Hawaiian Islands Bottomfish
CURRENT SEASON:
2017-2018 Fishing Season (September 1, 2017 – August 31, 2018)
2015-16 Annual Catch Limit: 306,000 lbs
Total Landings to date: 169,364 lbs (55.3% of ACL)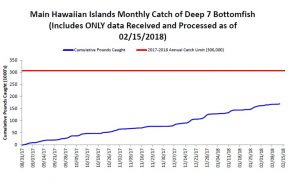 (Click to see larger view)
PAST SEASONS:
2016-2017 Fishing Season (September 1, 2016 – August 31, 2017)
*Note: The 2016-2017 fishing season has ended as of August 31, 2017, though because of data processing and availability, the following may be updated as data is provided.
2016-17 Annual Catch Limit: 318,000 lbs
Total Landings to date: 234,299 lbs (73.7% of ACL)

(Click to see larger view)
Comparison of MHI Deep-7 Bottomfish Landings 2007-2017


(Click to see larger view)
Bottomfish News: Volume 17-August 2014
More information available at hawaiibottomfish.info
Fishery Science Information
Find scientific information on the region's fisheries at:
NMFS Pacific Islands Fisheries Science Center
Pelagics Fisheries Research Program (PFRP)
Hawaii Seafood Council
Pacific Islands Ocean Observing System (PacIOOS)
For more information on Fish Aggregation Devices:
Hawaii FADs
SPC Manual on FADs
SPC FAD Manual Volume II
For more information on Fukushima Radiation:
Peer-reviewed Science
State/Regional Regulations
National Marine Fisheries Service