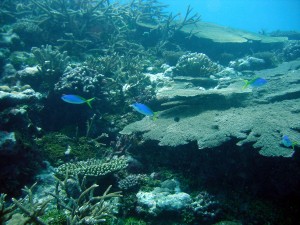 The islands of American Samoa rise from deep 4,000 m oceanic depths. All of the islands have fringing coral reefs, and a large and complex relict barrier reef surrounds Tutuila. There are also several submerged bank structures northwest of Ofu and southeast of Olosega. These relict reefs and submerged banks include some areas with high (> 50%) live coral cover in waters deeper than 20 m.
American Samoa experiences southeast trade winds that result in frequent rains and a warm tropical climate. The year-round air temperatures range from 70° to 90° F. Humidity averages 80 percent during most of the year. The average rainfall is 130-200 inches of rainfall per year.
Coastal wetlands are limited in American Samoa, with the most extensive being the mangrove forest at Nuuuli Pala Lagoon in south-central Tutuila. American Samoa is the eastern-most natural limit for mangroves.
There are concerns about coastal erosion and pollution in Pago Pago harbor.