Data Collection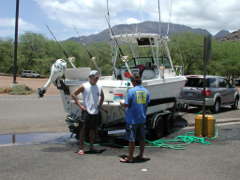 In Hawaii, fishing data are collected by the State of Hawaii Division of Aquatic Resources (DAR), the NMFS Western Pacific Fisheries Information Network (WPacFIN). DAR collects commercial fishery data through its Commercial Marine License (CML) program. The CML is required for any person taking marine life for commercial purposes and requires the report of all fish caught regardless of whether it was sold or not. DAR also requires licenses for any CML holder using a small mesh net to take certain fish for use as live bait, fishing using nets, spearfishing, squiding, lobster diving or traps, and for all commercial marine dealers to report their purchase of marine life. This system of dealers and fishermen licenses provides verification of commercial catch data.
Recreational fishing data is collected through the Hawaii Marine Recreational Fishing Survey (HMRFS) which provides estimates of recreational fishery catch through combined intercept and phone surveys.
NMFS collects data in the NWHI Bottomfish fishery through daily trip logs provided to Federal NWHI bottomfish fishing permitees. If the permitee is a commercial fishermen, they are also reuired to fill out NWHI bottomfish trip sales reports. In the MHI, the NMFS also collects non-commercial fishery data through a permit and reporting requirement. Permits and reporting are also required for the crustacean fisheries (lobster, shrimp and Kona crab), precious corals (red, pink, gold, black and bamboo) and coral reef fisheries (for potentially harvested MUS) in the Hawaiian archipelago.
For detailed information, data collection forms, and fishery statistics, please see the WPacFIN website. For more information on data collection in pelagic fisheries of the Hawaiian archipelago please see the Pelagics Fisheries page [Hyperlink Pelagics data collection page]
Annual Reports
The Council produces annual reports on its fisheries through contributions of data and analyses from the Hawaii DAR, NMFS Pacific Islands Fisheries Science Center (PIFSC), WPacFIN, and NMFS Pacific Islands Regional Office.