Under the Magnuson Stevens Fishery Conservation and Management Act, CNMI and Guam are each considered a single fishing community. In both of these fishing communities, the village system, with individual mayors elected to each village, is the prevalent political structure. The CNMI additionally has four municipalities (the Northern Islands, Saipan, Tinian and Rota) as well as a chiefly structure for their Carolinian communities that influence community life.
The Mariana Archipelago Fishery Ecosystem Plan (FEP) pursues an adaptive, geographically specific approach to federally managed fisheries that accounts for ecosystem knowledge and uncertainties. By being place-based rather than species-based, it considers multiple external influences and strives to balance diverse social objectives. The FEP fosters increased collaboration with domestic and international management bodies, government and non-governmental organizations, communities and the public in the development of federal fishery management. The decision-making structure features a bottoms-up approach with public input arriving to the Council through individual correspondences, at public meetings and through a variety of advisory panels.
The FEP Advisory Panel provides input on fishery management issues and planning efforts and the content and likely effect of management plans, amendments and management measures. It includes 16 members representing commercial, recreational and subsistence fisheries and ecosystems from Guam and CNM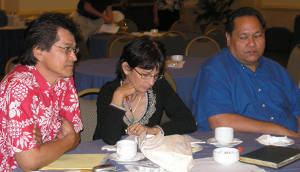 The Archipelagic FEP Plan Team oversees the ongoing development and implementation of the four insular FEPs for the Western Pacific Region. It monitors fisheries performance and fish stocks managed under these FEPs.
The Science and Statistical Committee (SSC) identifies scientific resources required to develop the FEP and amendments, recommends resources for the Plan Teams, provides multidisciplinary review of management plans and amendments, evaluates scientific information, and advises the Council on the composition of the Plan Teams.
Mariana FEP Standing Committee reviews all relevant information and data including recommendations from the Advisory Panel, Plan Team and SSC and provides recommendations to the Council.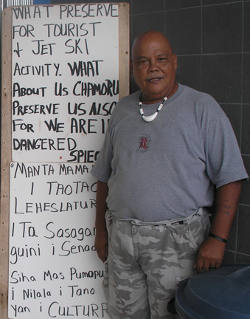 The Mariana Archipelago Regional Ecosystem Advisory Committee includes Council members and representatives from federal, state and local government agencies; businesses; and non-governmental organizatons with responsibility and interest in land-based and non-fshing activities that potentially affect the area's marine environment.
The Council's Indigenous Programs address the economic and social impacts of colonization, militarization and immigration on the people in the Council's area of responsibility and authority.
To become involved, contact the Council at (808) 522-8220 or at info.wpcouncil@noaa.gov; in Guam, Carl Dela Cruz at (671) 687-6812 or by email at carl.delacruz@noaa.gov; and in the CNMI, Jack Ogumoro at (670) 322-9834 or 287-9482 or by email at Jack.Ogumoro@noaa.gov.