Mariana Archipelago: Today's Fisheries
Fisheries covered by the Mariana Archipelago Fishery Ecosystem
Plan that are active today include bottomfish, crustacean and coral reef fish.
Littleis known about the presence of precious coral in the Mariana Archipelago
waters; however, available habitat is limited because of the steep topography.
Reports of a pre-WWII fishery suggest large quantities of high quality
Corallium spp. were taken north of Pagan Island, CNMI. Since then, no
precious coral harvests have occurred within EEZ waters around the CNMI.
No landings of precious corals have been reported from EEZ waters around
Guam.
Bottomfish Fishery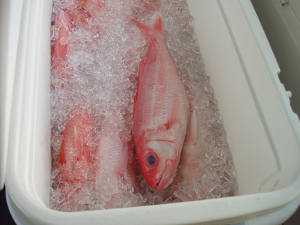 Fishermen operating in waters <500 feet are the largest sector of the Mariana Archipelago
bottomfish fishery. They include small-scale commercial, recreational
and subsistence fishermen. A smaller sector of primarily small-scale
commercial fishermen operates in waters > 500 feet for snappers and
groupers. Vessels are generally less than 25 feet in length with trips
limited to one day and within a 30-mile radius.
In CNMI, fishermen target red-gilled emperor. About 150 skiffs fish the islands and banks from Rota to Zealandia Bank north of Sariguan. About 8 to 43 larger vessels ranging 29 to 70 feet make multiday trips to the Northern Islands, focusing effort from Esmeralda Bank to Zealandia.
In Guam, fishermen target reef-dwelling snappers, groupers and jacks. Less than 20% ofthe harvest is outside 3 miles, and charter fishing accounts for about 15% to 20% of all bottomfishing trips. Three commercial bottomfish vessels are believed to be active.
Crustacean Fishery
Spiny lobster is hand harvested by subsistence and recreational divers in near-shore
waters of the inhabited southern islands of CNMI and territorial waters
of Guam. Bottomfish fishermen occasionally night dive for lobster within
3 miles of shore at Farallon de Medinilla, in CNMI's northern islands,
mainly for personal consumption. Four vessels hold federal lobster permits
for the US EEZ of the Mariana Archipelago.
The reported annual commercial harvest is <500 lbs in CNMI. Unreported commercial
and non-commercial catch could double this figure.
Deep-water shrimp are sporadically trapped throughout the Pacific. This fishery
operated in CNMI near steep banks at depths of >350 meters, mostly
around Saipan and Tinian, in the 1990s.
Coral Reef Ecosystem Fishery
Recent information on noncommercial catches of coral reef resources is not available.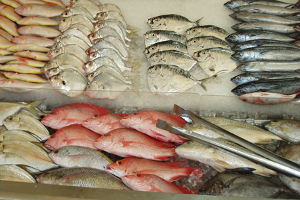 In CNMI, most fishing is in near-shore areas. Finfish and invertebrates are the primary targets. Small quantities of seaweed are taken. Commercial landings include parrotfish, surgeonfish and goatfish. Six of the Northern Islands have been fished commercially.
Currently moratoriums exist for sea cucumber and topshell.
In Guam, primarilyshore-based fishermen harvest more than 100 species of fish. Less than 20% of the coral reef resources harvested is taken in the EEZ. Most offshore banks are deep, remote, shark infested, subject to strong currents and accessible only from May to September.