Press Release – Fishermen Identify Projects to Improve Fisheries Development in the US Pacific Islands (18 March 2019)
HONOLULU (18 March 2019) Projects to develop fisheries topped the list of needs identified by fishermen from Hawai'i, American Samoa, Guam and the Commonwealth of the Northern Mariana Islands (CNMI) during their March 15 and16 meeting in Honolulu. The group, which constitutes the Advisory Panel (AP) of the Western Pacific Regional Fishery Management Council, also highlighted the importance of fishing to the communities of each of the island areas. They said that the social and economic value of the local and regional fisheries needs to better communicated.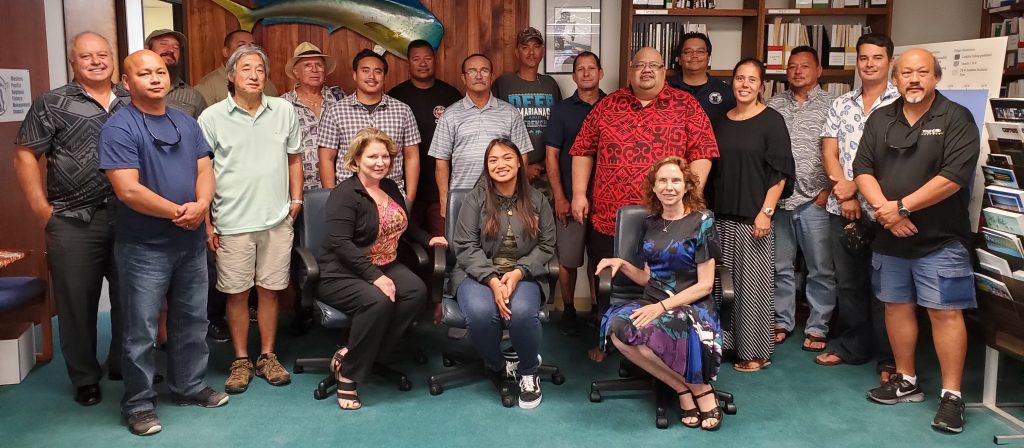 "The Council welcomes the ideas and contributions of the Advisory Panel," said Council Chair Archie Soliai. "This is a challenging time for fisheries, and the AP has a lot of work to do. "
The Council will consider the AP recommendations when it meets tomorrow through Thursday at the YWCA Fuller Hall, 1040 Richards St., Honolulu. Included among the suggested projects and activities from the AP are fishery demonstration projects; expanded use of technology to collect fishery data; characterization of existing fisheries in Hawai'i; and improved fishing opportunities in Guam and the CNMI through improved fish aggregation devices, fishery access and reduction of shark depredation. 
AP members include representatives from diverse fisheries, including spearfish, longline, bottomfish, charter boat, subsistence and the fishery media. The AP is mandated by the Magnuson-Stevens Fishery Conservation and Management Act. 
For agendas and background materials on the AP and Council meetings as well as the Fishers Forum tomorrow (March 19) 6 to 9 p.m. at the Ala Moana Hotel, go to www.wpcouncil.org/category/upcoming-council-and-advisory-body-meetings or contact the Council at info.wpcouncil@noaa.gov or (808) 522-8220.
Advisory Panel: American Samoa: Krista Corry, Sam Meleisea, Carlos Sanchez, Dustin Snow, William Sword, Brian Thompson; CNMI: Richard Farrell, Michael Fleming, Perry Mesgnon, Cecilio Raiukiulipiy, Ray Tebuteb, Jun Yamagishi; Guam: Judith Amesbury, James Borja, Ken Borja, Jason Miller, Matthew Orot, Tatiana Talavera; Hawai'i: Nathan Abe, Khang Dang, Eddie Ebisui III, Gil Kualii, Carrie Johnston, Clay Tam
Western Pacific Regional Fishery Management Council: Secretary of Commerce appointees from nominees selected by American Samoa, CNMI, Guam and Hawaii governors: John Gourley, Micronesian Environmental Services (CNMI) (acting chair); Michael Duenas, Guam Fishermen's Cooperative Association (Guam) (vice chair); Dean Sensui, film producer (Hawaii) (vice chair); Archie Soliai, StarKist (American Samoa) (vice chair); Michael Goto, United Fishing Agency (Hawaii); Christinna Lutu-Sanchez, commercial fisherman (American Samoa); Edwin Watamura (Hawaii). Designated state officials: Raymond Roberto, CNMI Department of Lands and Natural Resources; Suzanne Case, Hawaii Department of Land & Natural Resources; Matt Sablan, Guam Department of Agriculture; Henry Sesepasra, American Samoa Department of Marine & Wildlife Resources. Designated federal officials (voting): Michael Tosatto, NMFS Pacific Islands Regional Office. Designated federal officials (non-voting): RADM Kevin Lunday, USCG 14th District; Michael Brakke, US Department of State; Brian Peck, USFWS.
Click here for printable PDF.