HONOLULU (11 Oct. 2016) Standing Committees of the Western Pacific Regional Fishery Management Council are meeting today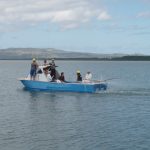 to consider management measures for fisheries in the expanded Papahanaumokuakea Marine National Monument in the Northwestern Hawaiian Islands (NWHI); 2017 longline-caught bigeye tuna catch limits in American Samoa, Guam and the Commonwealth of the Northern Mariana Islands (CNMI); and other offshore fishery management issues. The full Council will consider recommendations from the Standing Committees and its advisory bodies this Wednesday through Friday at Fuller Hall, YWCA, 1040 Richards St., Honolulu.
Among the advisory bodies providing recommendations is the Scientific and Statistical Committee (SSC), which met last week in Honolulu. Regarding the NWHI monument, the SSC recommended the acquisition of historic fishing activity data in the expanded monument area, which includes waters 50 to 200 miles offshore. The SSC also recommended that the Council consider the use of "customary exchange," as used in other marine national monuments in the US Pacific Islands, as an option for subsistence and other non-commercial fishing.
According to the Aug. 26, 2016, Proclamation 9478 by President Obama, which expanded the NWHI monument, commercial fishing will be prohibited but non-commercial fishing will be allowed as a regulated activity, "provided that the fish harvest, either in whole or in part, cannot enter commerce through sale, barter or trade, and that the resource is managed sustainably."
The proclamation also allows Native Hawaiian practices as allowable regulated activities "including exercise of traditional, customary, cultural, subsistence, spiritual and religious practices within the Monument expansion." Prior to the expansion, the NWHI monument encompassed waters 0 to 50 nautical miles around the NWHI, within which Native Hawaiians were allowed "sustenance" fishing (i.e., they had to consume their catch while they were within in the monument area) and not "subsistence" fishing.
Regarding the 2017 longline bigeye catch limits for American Samoa, Guam and the CNMI, the SSC recommended further analysis on the impacts and the stock should the Council decide to increase the allowable catch beyond the levels that have been approved by the Secretary of Commerce since 2014. Bigeye tuna quotas in the Western and Central Pacific Ocean are developed by the international Western and Central Pacific Fisheries Commission (WCPFC) and enter into national regulations through the Council process, as authorized by the Magnuson-Stevens Fishery Conservation and Management Act. The WCPFC did not limit the catch by Participating Territories and Small Island Developing States, but the Council has annually set a limit of 2,000 mt per US Pacific Island Territory.
Scientific and Statistical Committee: Judith Amesbury (Micronesian Archaeological Research Services); Dr. Debra Cabrera (St. John's School); Dr. Paul Callaghan (University of Guam retired); Dr. Frank A. Camacho (University of Guam); Dr. Milani Chaloupka (University of Queensland); Dr. Charles Daxboeck, chair, (BioDax Consulting Tahiti); Dr. Richard Deriso (Inter-American Tropical Tuna Commission); Dr. Erik Franklin (Hawai`i Institute of Marine Biology); Dr. John Hampton (Secretariat of the Pacific Community);Dr. Shelton Harley (Ministry for Primary Industries); Dr. Ray Hilborn (University of Washington); Dr. Justin Hospital (NMFS PIFSC); David Itano (consultant); Dr. Pierre Kleiber (NMFS PIFSC, retired); Dr. Donald Kobayashi (NMFS PIFSC); Dr. Molly Lutcavage (University of Massachusetts); James Lynch (K&L Gates); Dr. Steve Martell (International Pacific Halibut Commission) Alton Miyaska (Hawai'i Division of Aquatic Resources); Dr. Domingo Ochavillo (American Samoa DMWR); Dr. Minling Pan (NMFS PIFSC); Dr. Graham Pilling (Secretariat of the Pacific Community); Dr. Craig Severance (University of Hawai`i at Hilo, retired); Dr. John Sibert (Pelagic Fisheries Research Program, retired); Dr. Robert Skillman (NMFS PIFSC, retired) and Mr. Michael Tenorio (CNMI Division of Fish & Wildlife).
Western Pacific Regional Fishery Management Council: Secretary of Commerce appointees from nominees selected by American Samoa, CNMI, Guam and Hawai`i governors: Michael Duenas, Guam Fishermen's Cooperative Association (Guam) (vice chair); Edwin Ebisui Jr. (Hawaii) (chair); Michael Goto, United Fishing Agency (Hawaii); John Gourley, Micronesian Environmental Services (CNMI) (vice chair); Christinna Lutu-Sanchez, commercial fisherman (American Samoa); McGrew Rice, commercial and charter fisherman (Hawaii) (vice chair); Dean Sensui, film producer (Hawaii); Archie Solai, StarKist (American Samoa) (vice chair). Designated state officials: Suzanne Case, Hawai`i Department of Land & Natural Resources; Ruth Matagi-Tofiga, American Samoa Department of Marine & Wildlife Resources; Richard Seman, CNMI Department of Lands and Natural Resources; Matt Sablan, Guam Department of Agriculture. Designated federal officials: Matthew Brown, USFWS; Michael Brakke, US Department of State; RADM Vincent B. Atkins, USCG 14th District; and Michael Tosatto, NMFS Pacific Islands Regional Office.