HONOLULU (29 Sept. 2016) President Obama's proclamation expanding the Papahanaumokuakea Marine National Monument in the Northwestern Hawaiian Islands (NWHI) to include 532,578 square miles of ocean prohibits commercial fishing but allows non-commercial fishing including native Hawaiian subsistence fishing. In a letter dated Sept. 23, 2016, to the Western Pacific Regional Fishery Management Council, National Marine Fisheries Service (NMFS) Pacific Islands Regional Administrator Michael Tosatto said that he looked "forward to the Council's recommendations for amending the Hawai'i and Pelagic fishery ecosystem plans to establish appropriate fishing requirements under the Magnuson-Stevens [Fishery Conservation and Management] Act, including the prohibition on commercial fishing and the regulation of non-commercial fishing."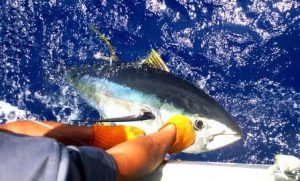 During its deliberations, the Council will consider the advice of its Scientific and Statistical Committee (SSC), a group of renowned fishery scientists, which will convene Oct. 4 to 6, 2016, at the Council office, 1164 Bishop St., Suite 1400, Honolulu. Among the items to be reviewed is the economic impact of lost fishing grounds in the US exclusive economic zone as a result of the monument expansion.
The SSC is also scheduled to provide advice on the 2017 longline bigeye catch limits for American Samoa, Guam and the Commonwealth of the Northern Mariana Islands. These US flagged islands are Participating Territories of the Western and Central Pacific Fisheries Commission. This international regional fishery management organization, to which the US is a party, has developed national quotas for longline-caught bigeye tuna in the Western and Central Pacific Ocean, but set no longline bigeye catch limits for Small Island Developing States and Participating Territories. In 2014, the Council amended its Pacific Pelagic Fishery Ecosystem Plan (FEP) to provide a framework to establish catch or fishing effort limits for the US Participating Territories in relation to WCPFC conservation and management measures. Under the framework, the Council has recommended and NMFS has approved annual catch limits of 2,000 metric tons (mt) for each US Territory in the Pacific with the ability to transfer 1,000 mt under specified fishing agreements to fishing vessels permitted under the FEP. These US Territory catch limits are reviewed and specified annually.
During the SSC meeting next week, eight outgoing SSC members will be recognized for their terms of service and new members will be welcomed, including Professor Ray Hilborn, University of Washington; Dr. Steve Martell, private consultant, International Halibut Commission; Dr. Debra T. Cabrera Social Sciences Faculty, St. John's School, Guam; and Justin Hospital, NMFS Pacific Islands Fisheries Science Center.
The Council will consider the recommendations from the SSC and its other advisory bodies at its 168th meeting, Oct. 12 to 14, 2016, at Fuller Hall, YWCA, 1040 Richards St., Honolulu. Fishermen, other stakeholders and members of the public are invited to attend the meetings as well as the Fishers Forum on "Magnuson and Marine Monuments: Social-Environmental Justice in the Era of Large Marine Protected Areas," 6 to 9 p.m., October 12, at the Ala Moana Hotel, Garden Lanai, 410 Atkinson Dr., Honolulu. For more information and complete agendas, go to www.wpcouncil.org, email info@wpcouncil.org or phone (808) 522-8220.
For a PDF of this press release click here