Press Release – US Pacific Fishery Managers Set Uku Catch Limits in Hawai'i, Support Exploring Cultural Take of Green Sea Turtles (23 September 2021)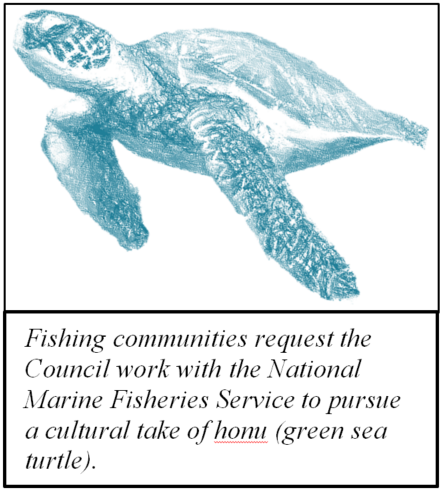 HONOLULU (23 September 2021) The Western Pacific Regional Fishery Management Council recommended that the National Marine Fisheries Service (NMFS) implement a 291,010-pound annual catch target for uku in the main Hawaiian Islands. This would include an in-season accountability measure to avoid surpassing this level for fishing years 2022 to 2025. The previous catch limit, effective from 2019 to 2021, was nearly half the amount at 127,205 pounds, but only applied to commercial fishers, whereas the new limit combines the commercial and noncommercial sectors.
The Council also heard a report on honu (green sea turtle, Chelonia mydas) management in Hawai'i, noting continued requests from the fishing community to allow harvest for cultural purposes. Council members supported developing a way forward with NMFS. Manny Dueñas, Council member from Guam, expressed deep concern at the erosion of respect for indigenous cultures in our region, where turtles have been valued for medicine, food and sustenance for more than 4,000 years. The Council will work with communities to document the history of cultural harvest and use of honu in Hawai'i.
The Council deferred taking final action on the rebuilding plan for the federally managed bottomfish complex in American Samoa, and will organize an intercessional meeting for the week of Oct. 18, 2021. Several Council members expressed their dismay at the low catch limit alternatives and the potential fishery closure. Archie Soliai, Council chair and director of the American Samoa Department of Marine and Wildlife Resources said the extra time would allow him time to consult with the governor on the coordinated management of the bottomfish fishery in territorial and federal waters.
"We carefully balance the economic development aspirations with sustainable management of the bottomfish resource based on available scientific information," Soliai said. The territory is working with local communities to develop a Territorial Bottomfish Fishery Management Plan that is in line with Fa'a Samoa, the Samoan identity and way of living.
"Fishing is how we keep in touch with Fa'a Samoa…our God-given right and our way of feeding our communities," noted Howard Dunham, Council member from American Samoa and president of the American Samoa Alia Fishing Association. "We need to revive our alia fleet instead of further marginalizing a small underserved fishing community. Some alia still use wooden reels because modern reels are expensive." The territory has a population of approximately 58,000 people, with more than 54% living in poverty.
The Council requested that the NMFS Stock Assessment Program separate the shallow- and deepwater-bottomfish into separate stock complexes in its next assessment. The Council also requested that the data workshop sharing information with the American Samoa fishing communities currently planned for November 2021 be held in-person.
The Council manages federal fisheries operating in waters offshore of the State of Hawai'i, the Territories of American Samoa and Guam, the Commonwealth of the Northern Mariana Islands (CNMI) and the U.S. Pacific Remote Islands Areas.
Western Pacific Regional Fishery Management Council: Secretary of Commerce appointees from nominees selected by American Samoa, CNMI, Guam and Hawai'i governors: Roger Dang, Fresh Island Fish Co. (Hawai'i) (vice chair); Manny Dueñas, Guam Fishermen's Cooperative Association (Guam) (vice chair); John Gourley, Micronesian Environmental Services (CNMI) (vice chair); Will Sword, noncommercial fisherman/engineer (American Samoa) (vice chair); Monique Amani, business owner (Guam); Howard Dunham, commercial fisherman (American Samoa); Matt Ramsey, Conservation International (Hawai'i); and McGrew Rice, charter boat captain (CNMI). Designated state officials: Anthony Benavente, CNMI Dept. of Lands and Natural Resources; Suzanne Case, Hawai'i Dept. of Land & Natural Resources; Chelsa Muña-Brecht, Guam Dept. of Agriculture; and Archie Soliai, American Samoa Dept. of Marine & Wildlife Resources (chair). Designated federal officials (voting): Michael Tosatto, NMFS Pacific Islands Regional Office. Designated federal officials (nonvoting): Colin Brinkman and Rebecca Wintering, U.S. Dept. of State; Brian Peck, U.S. Fish and Wildlife Service; and RADM Matthew Sibley, U.S. Coast Guard 14th District.