Press Release – Western Pacific Scientists Discuss 2021 Fishery Reports and Bottomfish Fishery Management Changes (14 June 2022)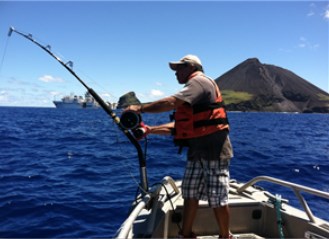 HONOLULU (14 June 2022) The Council's Scientific and Statistical Committee (SSC) at its meeting today discussed highlights from the 2021 Annual Stock Assessment and Fishery Evaluation (SAFE) Reports. The reports cover the performance of Council-managed fisheries in Hawai'i, American Samoa, Guam and the Commonwealth of the Northern Mariana Islands (CNMI) and pelagic fisheries in the Pacific region. 
Fishery performance for pelagic fishers generally increased in each of the regions. Tunas dominated the catches and increased in all four areas relative to 2020. These increases were driven by bigeye and yellowfin in Hawai'i, South Pacific albacore and yellowfin in American Samoa, and skipjack and yellowfin in the Mariana Archipelago.
Island fishery performance was mixed among the four regions. CNMI's bottomfish fishery had a substantial increase in annual catch to 74,885 pounds, likely due to an increase in fishing effort. Similarly, Guam's bottomfish fishery also had an increase in catch to 54,221 pounds – among the highest in three decades of available data. The Deep-7 bottomfish complex in Hawai'i had a slight increase in trips and catches driven by onaga and ehu, and annual catch and revenue of uku also increased.
However, SSC members noted the large decline in American Samoa bottomfish catch down to 2,215 pounds in 2021. "Unfortunately, this does reflect the reality of the situation," said Department of Marine and Wildlife Resources Fisheries Biologist Domingo Ochavillo. COVID-19-related issues affected bottomfish fishermen in the territory such as vendors not buying due to increased prices, loss of crew to Apia, Samoa, and pelagic and imported bottomfish being cheaper in the market.
Fishermen observations in the SAFE reports emphasize the importance of considering "on-the-water" information. In 2021, fishers across the region noted many new entrants to fisheries may have negatively impacted fishery performance data. Fishers continued to adapt to impacts from the COVID-19 pandemic, including a decrease in market demand and high fishing expenses. Some fishers reported selling their catch through other channels such as roadside vendors.
The Archipelagic and Pelagic Plan Teams recommended improving annual reports by reviewing and revising bycatch reporting tables, and generating a territorial non-commercial fisheries section.
CNMI Bottomfish Management Unit Species Analysis
The SSC endorsed changes to the CNMI bottomfish management unit species (BMUS) complex. Giant ehu (Etelis boweni) and blue-lined gindai (Pristipomoides argyrogrammicus) were added to the CNMI Fishery Ecosystem Plan and other species were recommended to include in a territory fishery management plan (FMP).
The Pacific Islands Fisheries Science Center completed analyses of CNMI creel survey data to support revising the BMUS complex. The analysis grouped species caught together. Federal management plans will include 10 deep-water species and the territory FMP will include five primarily shallow-water species.
The Council's original Bottomfish FMP for the Western Pacific Region listed 20 fish species that dominated the landings, which included both shallow- and deep-water species. The BMUS were grouped into a single bottomfish complex. The territory's bottomfish fisheries have evolved over time with the rise and fall of large vessel fleets and various sporadic fishery development projects. Current bottomfish fisheries consist of small boats undertaking single-day trips with a low number of participants targeting both coral reef fish and deep-water snappers using the same pole-and-line gear.
The SSC meeting continues tomorrow with discussions on false killer whale interactions and depredation, area-based management and deep-sea mining.
Scientific and Statistical Committee: James Lynch (Sierra Pacific Industries) (chair); Debra Cabrera (University of Guam); Frank Camacho (University of Guam); Milani Chaloupka (University of Queensland); Erik Franklin (University of Hawai'i, School of Ocean and Earth Science and Technology); Jay Gutierrez (Guam Division of Aquatic and Wildlife Resources); Shelton Harley (Fisheries New Zealand); Jason Helyer (Hawai'i Division of Aquatic Resources); Ray Hilborn (University of Washington); Justin Hospital (National Marine Fisheries Service (NMFS) PIFSC); David Itano (fisheries consultant); Donald Kobayashi (NMFS PIFSC); Steve Martell (SeaState, Inc.); Domingo Ochavillo (American Samoa Department of Marine and Wildlife Resources); Graham Pilling (Secretariat of the Pacific Community); Kurt Schaefer (Inter-American Tropical Tuna Commission); Craig Severance (University of Hawai'i at Hilo, retired); Michael Tenorio (CNMI Division of Fish and Wildlife); and Michael Seki (ex-officio) (NMFS PIFSC).
Western Pacific Regional Fishery Management Council
:
Secretary of Commerce appointees from nominees selected by American Samoa, CNMI, Guam and Hawai'i governors
: Roger Dang, Fresh Island Fish Co. (Hawai'i) (vice chair); Manny Dueñas, Guam Fishermen's Cooperative Association (Guam) (vice chair); John Gourley, Micronesian Environmental Services (CNMI) (vice chair); Will Sword, noncommercial fisherman/engineer (American Samoa) (vice chair); Monique Amani, business owner (Guam); Howard Dunham, commercial fisherman (American Samoa); Matt Ramsey, Conservation International (Hawai'i); and McGrew Rice, charter boat captain (CNMI).
Designated state officials
: Anthony Benavente, CNMI Dept. of Lands and Natural Resources; Suzanne Case, Hawai'i Dept. of Land & Natural Resources; Chelsa Muña-Brecht, Guam Dept. of Agriculture; and Archie Soliai, American Samoa Dept. of Marine & Wildlife Resources (chair). Designated federal officials (voting): Michael Tosatto, NMFS Pacific Islands Regional Office.
Designated federal officials (nonvoting)
: Colin Brinkman, U.S. Dept. of State; Brian Peck, U.S. Fish and Wildlife Service; and RADM Matthew Sibley, U.S. Coast Guard 14th District.