The Western Pacific Regional Fishery Management Council (WPRFMC) acknowledges that the President's amended Pacific Remote Islands Marine National Monument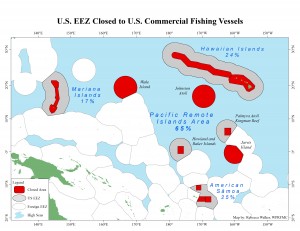 (PRIMNM) expansion plan reduces the economic toll the original plan would have taken on sustainable US Pacific Island fisheries. The announcement of the final plan comes after months of the WPRFMC expressing serious concern for a sudden, unilateral proposal from the White House to expand the monument.  
The WPRFMC has been informed by the White House by phone today that the monument will now extend to 200 miles around Johnston Atoll, Jarvis Island and Wake Island, but the existing 50-mile PRIMNM boundary will remain around Howland and Baker Islands and Palmyra Atoll and Kingman Reef.
HONOLULU (WPRFMC) – September 24, 2014 – A plan announced in June to vastly expand the Pacific Remote Islands Marine National Monument (PRIMNM) – and in turn prohibit commercial fishing therein – has been amended to better accommodate economically vital fishing industries for Hawaii and the U.S. Pacific Islands. Following a West Wing meeting joining representatives of the Western Pacific Regional Fishery Management Council (WPRFMC) and the Hawaii longline fishing industry with Counselor to the President John Podesta and White House Council on Environmental Quality Acting Chair Mike Boots, and in the wake of public criticism and media attention, the White House announced today a revised plan for the President's expansion of the PRIMNM.
Read More ª