Press Release – New Publication Showcases History of U.S. Pacific Billfish Fisheries and Their Management (30 November 2020)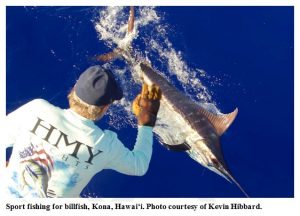 HONOLULU (30 November 2020)  The Western Pacific Regional Fishery Management Council has released the second of seven new issues in its historical Pacific Islands Fishery Monographs series. Each monograph looks at some of the most important federal fisheries and management issues for the U.S. Pacific Islands.
History of the Billfish Fisheries and Their Management in the Western Pacific Region, the second of these new monographs and the tenth overall in the series, is now available. Written by Michael Markrich, the monograph depicts the controversies among various foreign and domestic fisheries that caught billfish in and around the Hawaiian Islands and how East Coast big gamefish and environmental advocates influenced the management of fisheries not only in the Atlantic and Gulf but also in the U.S. Pacific Islands.
Prior to Western contact, Native Hawaiians used special hooks to catch billfish, tuna and other large pelagic fish from outrigger canoes. In the early 1900s, immigrants from Japan introduced flagline fishing for tuna in the islands. Billfish caught incidentally by this fishery was used in fish cake, an affordable food for ethnic Japanese residing in Hawai'i. Simultaneously, big gamefish fishermen found their way to the islands, leading to the eventual designation of Kailua-Kona on the Big Island of Hawai'i as the marlin capital of the world.
These big gamefish fishermen advocated for tight restrictions on the taking of marlin and swordfish on the U.S. mainland, which drove longline vessels from the Atlantic and Gulf to head to Hawai'i. This caused the local longline fleet to grow exponentially from 15 vessels in the 1970s to 156 in 1991. The Western Pacific Council responded with a series of measures to manage conflicts that arose between the longline and artisanal fishing vessels and the increased fishery interactions with seabirds and sea turtles. While the Hawai'i swordfish fishery has become America's largest supplier of domestic swordfish, further political influence of East Coast big gamefish advocates and others led to Presidential and Congressional actions that have banned fishing in the majority of U.S. waters around Hawai'i and the U.S. Pacific Islands and halted interstate commerce of healthy, domestically caught billfish (excluding swordfish) from these islands.
While the monograph's findings and perspectives do not necessarily represent those of either the Council or the National Marine Fisheries Service, the Council hopes the history will expand the reader's understanding of federal fisheries and their management.A limited number of printed copies are available on a first-come basis by contacting the Council. The publication and prior issues of the monograph series are also available online at
https://www.wpcouncil.org/educational-resources/education-library/
.