Press Release: Council Concerned With Lack of Support for Western Pacific Fishing Communities (21 June 2022)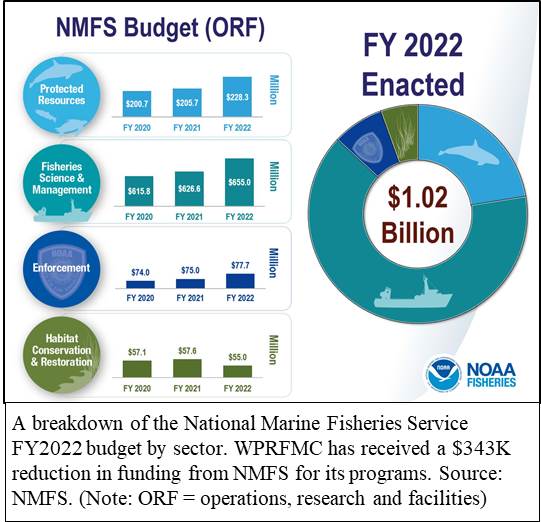 HONOLULU (21 June 2022) On the first day of the Western Pacific Regional Fishery Management Council meeting, members learned that while the National Marine Fisheries Service (NMFS) FY2022 budget increased this year, the Council's annual request was reduced by $343K. This cut will impact capacity-building efforts, the annual report on the status of fisheries in the region and the protected species program. 
Council members were critical of the devaluing of fisheries in the Pacific Islands. Council Chair Taotasi Archie Soliai was concerned that Council programs are being impacted. "NMFS keeps talking about equity and justice, but this is not seen in our islands."
Soliai continued, "Our economies and cultures depend on the ocean and fishing," noting the proposed closure of the remaining waters of the Pacific Remote Island Areas north of American Samoa. Governor Mauga of American Samoa asked President Biden not to expand the Pacific Remote Islands Marine National Monument, while Governor Ige of Hawai'i supported the request by the Pacific Remote Islands Coalition (PRIC). "Hawaii has a large, highly developed and diversified economy. American Samoa does not," said Governor Mauga. "American Samoa is highly dependent on the United States for financial assistance to support our infrastructure, harbors, airports, hospitals, and schools. If our tuna industry collapses, American Samoa will become more dependent on U.S. financial aid." Links to the governors' letters can be found here:
www.wpcouncil.org/event/191st-council-meeting-virtual
. 
Manny Dueñas, Council vice chair from Guam, echoed the chair's comments, noting that the reduction of funding and additional closures are a "personal and major concern to the fishing communities in the islands" and that "in the Marianas, we need to fish to feed our people."
Council members discussed a delinquent NMFS draft bottomfish fisheries biological opinion (BiOp) that was provided to the Council less than three weeks ago for comments. The publication of the opinion took three years to develop and John Gourley, Council vice chair from the Commonwealth of the Northern Marianas (CNMI), commented, "fishermen have been waiting for this to be completed to ensure they weren't adversely affecting the protected species in their area." 
Council members also expressed their frustration with BiOp delays for the Hawai'i deep-set longline and American Samoa longline fisheries, noting the extended delays create uncertainties that cause anxiety. The Council Executive Director Kitty Simonds reminded the NMFS regional administrator that there is a policy directive that recognizes the Council's unique role in helping NMFS comply with the Endangered Species Act. The Council remains optimistic that it will have the opportunity to review draft BiOps prior to its next meeting in September.
The Council also requested the U.S. Coast Guard station a fast response cutter in American Samoa to support U.S. coastal security, national and international fishery patrols, search and rescue and national defense. As international fisheries around American Samoa grow, the Council would like to ensure that illegal, unreported and unregulated fishing does not encroach into the U.S. exclusive economic zone. 
The Council will convene tomorrow, Wednesday, June 22 for the second of its three-day meeting to review and potentially make recommendations on protected species, pelagic and international fisheries, and program planning and research. The full agenda, background documents and instructions for connecting to the meeting and providing oral public comments are available at
www.wpcouncil.org/event/191st-council-meeting-virtual
.
Western Pacific Regional Fishery Management Council
:
Secretary of Commerce appointees from nominees selected by American Samoa, CNMI, Guam and Hawai'i governors
: Roger Dang, Fresh Island Fish Co. (Hawai'i) (vice chair); Manny Dueñas, Guam Fishermen's Cooperative Association (Guam) (vice chair); John Gourley, Micronesian Environmental Services (CNMI) (vice chair); Will Sword, noncommercial fisherman/engineer (American Samoa) (vice chair); Monique Amani, business owner (Guam); Howard Dunham, commercial fisherman (American Samoa); Matt Ramsey, Conservation International (Hawai'i); and McGrew Rice, charter boat captain (CNMI).
Designated state officials
: Anthony Benavente, CNMI Dept. of Lands and Natural Resources; Suzanne Case, Hawai'i Dept. of Land & Natural Resources; Chelsa Muña-Brecht, Guam Dept. of Agriculture; and Archie Soliai, American Samoa Dept. of Marine & Wildlife Resources (chair).
Designated federal officials (voting)
: Michael Tosatto, NMFS Pacific Islands Regional Office. Designated federal officials (nonvoting): Colin Brinkman, U.S. Dept. of State; Brian Peck, U.S. Fish and Wildlife Service; and RADM Mike Day, U.S. Coast Guard 14th District.